You probably already know that one of the best broadband internet connection in India is available today via BSNL. The only problem with BSNL broadband connection is paying the bill. No matter how early you go to pay the bill, you will always find 100 people already in the queue. But now there is no need to waste time in the queue. You can pay the BSNL landline and broadband bill online.
To pay BSNL landline and broadband bill online, go to BSNL online payment portal:
Here you can either create your account or you can 'quick pay' the bill without saving your personal and financial details on a 'government website' ;).


Assuming you selected to quick pay your BSNL bill, click on the quick pay button. On the next page, you have to fill your landline phone number, your customer account number, your mobile number and your email id.
Everything is self explanatory except the account number. You can find it on your BSNL bill. It will be named Account Number or Customer ID depending upon your region.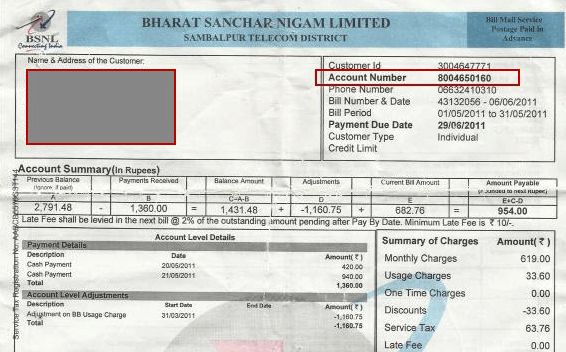 After filling the form, click on Submit. A popup window will be displayed with the transaction reference ID. Please note it down somewhere as it will be useful in case something goes wrong with your transaction. You can also copy the entire message from windows dialogue box. After coping the ID, press OK.
On next window, you can select your payment option and proceed to pay the BSNL bill online. At the time of writing, you can pay the bill using credit card, debit card, internet banking, cash cards or IMPS.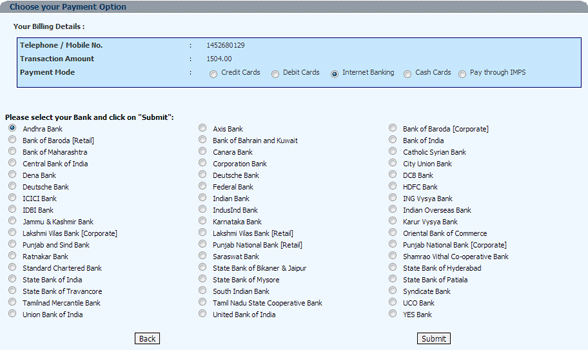 After completing the payment, a receipt will be available for print which will have all the details of your payment. You will also get an email with the receipt and an SMS message confirming the payment of the BSNL bill.
Check this video that shows how you can Pay BSNL Landline & Broadband Bill Online:
If you face any issues while trying to pay the BSNL bill online, don't hesitate to contact us using the comments form below.
Related: Check out the speed of your broadband internet connection.