You probably already know how to repeat a song or a number of songs (not exactly a playlist) in windows media player. However, as the number of media formats are increasing most of us are now using vlc media player instead of windows media player. As I mentioned in one of my earlier post, its a Swiss army knife in the media players market.
One of the most frequently asked questions by vlc newbies is how they can repeat a song in vlc media player? Well, there is no documentation available on this this because this feature was not built into vlc until the recent versions. But don't worry, the latest version of vlc supports the repeating of songs. Here's how to do it,
1. First of all, download the latest version of vlc media player.
2. Play the song that you want to repeat and pause it for a moment.
3. Click on the playlist menu item and slect show playlist from the drop down.
4. Now select the song, or more then one songs if you have a playlist loaded.
5. After selecting the song(s) click on the no repeat button to toggle it to repeat.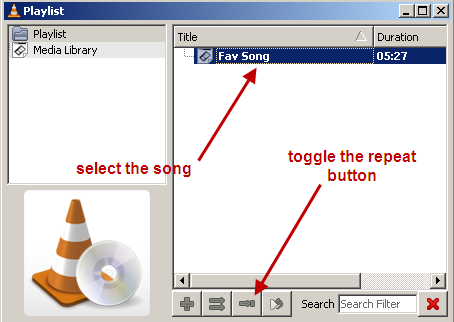 That's it. Now you song(s) will repeat.
Enjoy!