You may need to edit an image many times. For instance, you may have to remove the background from an image, add a border around an image or apply rounded corners to an image. No matter how you want to modify an image, you will need to use a standalone image editor software like Photoshop or Gimp for it.
But if you need to edit only a couple of images or if you use an image editor rarely, then its not a good idea to install resource heavy image editor software on your computer. You can use an online image editor software to edit images easily. Online image editors are as powerful as Photoshop or Gimp, and they are free to use.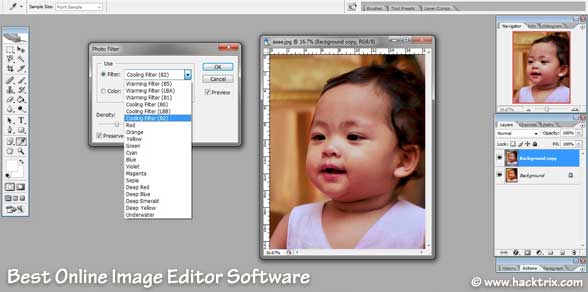 • Photoshop Express: If you are familiar with Photoshop, then Photoshop express is an exact online version of Photoshop. Photoshop express is free to use but you need to register a free account to start using it. You get 2GB storage free with the account and you can upgrade to premium plans if you need more storage space.
• Pixlr: An online image editor that is very similar to Photoshop. It includes some advanced features like image filters, which even the online version of Photoshop lack. You can start using pixlr image editor immediately without any registration.
• FotoFlexer: Very easy to use online image editor, just upload the photo you want to edit by clicking the big upload button and start editing. Its not a full-fledged image editor like Photoshop Express or Pixlr, but it lets you do the most basic image editing tasks like cropping, re-sizing, and also lets you apply various effects on the photos like applying a cool border, fixing the red eye etc.
• Aviary: A newcomer, but an advanced online image editor. It lets you upload an image from your computer to edit. You can also import images from your social accounts like Facebook or Flickr. A great feature of Aviary is that it supports layers, like Photoshop. The only disadvantage with this tool is that it adds a small watermark on the edited image. You need to upgrade to premium plans if you don't want a watermark.
• Picnik: Just like FotoFlexer, this online image editor tool lets you do basic editing tasks on images like, rotation, cropping, re-sizing, changing colors, brightness and contrast etc. It also has a auto-fix button which fixes common issues with images automatically.
• Splashup: Another online image editor with advanced features like filters, blending options, layers etc. You can also edit multiple images simultaneously with this tool. It also supports all the basic image editing tasks, so worth a try.
• Pixenate.com: Its a different type of online image editor as it provides tools for specific image re-touching tasks. You can fix red eye, brighten your skin color, or make your teeth more white with this tool easily.
There are some more online image editors like online-image-editor.com, imageeditor.net, snipshot.com. These tools provides basic image editing features but don't have any unique feature like the tools mentioned above.
If you find an online image editor software that is free to use and supports advanced image editing, then do let us know using the comments form below.