Lost files, accidental deletion of files, and worse partitions are a nightmare. Imagine a collection of your family album accidentally getting deleted. While Windows offers a recycle bin as one last option to recover, but when lost from there, there is no way to recover.
Unless you have been maintaining a backup, the chances of recovery are very slim. Not everyone keeps a backup. So, if you are in such a scenario, you need a professional file recovery software like EaseUS Data Recovery Wizard.
EaseUS Data Recovery Wizard
It's a professional file recovery software that can recover deleted files by using their software algorithm and also to the fact that most of the deleted files are available on the desk, but they cannot be found. That's how the OS works.
On the other hand, this data recovery software is smart enough to find them. Any OS has a table that lists all the files and their address. When a file is deleted, it is removed from the table, but space is reused only when needed. So, unless that space is overwritten, the software can quickly recover the file.
EaseUS Data Recovery scans through all physical address of the hard drive and finds all the files, identifies the file type, and lets you undelete files.
Features of EaseUS Data Recovery Wizard
Easy to use interface, especially for novice users
Lists partitions which are not visible on the computer
Supports external storage including SSD and USB
Preview files in the scan result before recovering
Export/ Import sessions so you don't have to start over again
Supports all types of deleted files, including documents, emails, compressed files, and more
Recover permanently deleted files from regular, deleted, and formatted drives
Repair corrupted images and video files even from a formatted drive.
Supports unlocking of Bitlocker partition
Save the scan result and start from where you left later. You can export the scanned results
Partial recovery is also possible, which is useful in case the file is important.
How to recover data using EaseUS Data Recovery Wizard Free
Now that we know the list of features and how it may help you undelete files let's find out how to use the software to recover the files and folders.
Step 1. Launch the Software and Select the Drive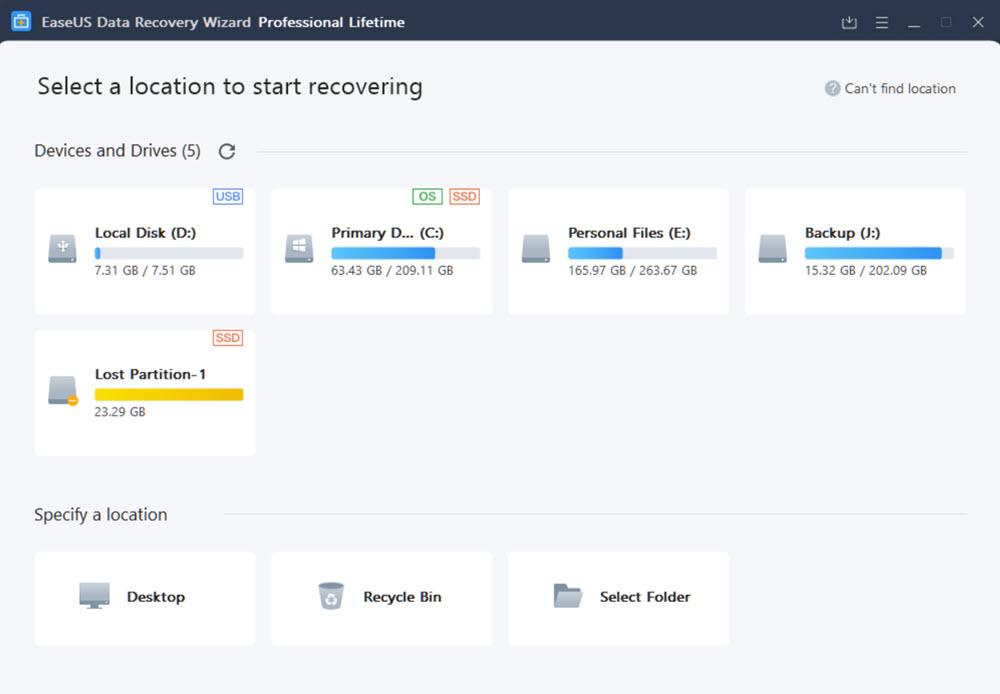 When you open the software, it will display a list of drives, both external and internal.
The regular partitions are marked as blue with SSD or USB marks wherever needed.
The lost or unused storages are represented with yellow
There is one more section that gives you direct access to the Desktop, Recycle Bin, or option to select a folder.
Always make sure to save the recovered files in external storage, so you don't overwrite the files which had chances to recover.
Step 2: Quick and Advanced Scan
Hover the mouse over the drive you want to scan, and it will instantly start scanning the drive. The first result which you immediately get is the Quick Scan result. It is the best method if you recently deleted files as it looks for those files first and offers the best chance to recover them.
The scan results are displayed in form files and folders with the exact name for most of them. Only files that cannot be identified are given a random name. That said, you can select a file, then click on the preview.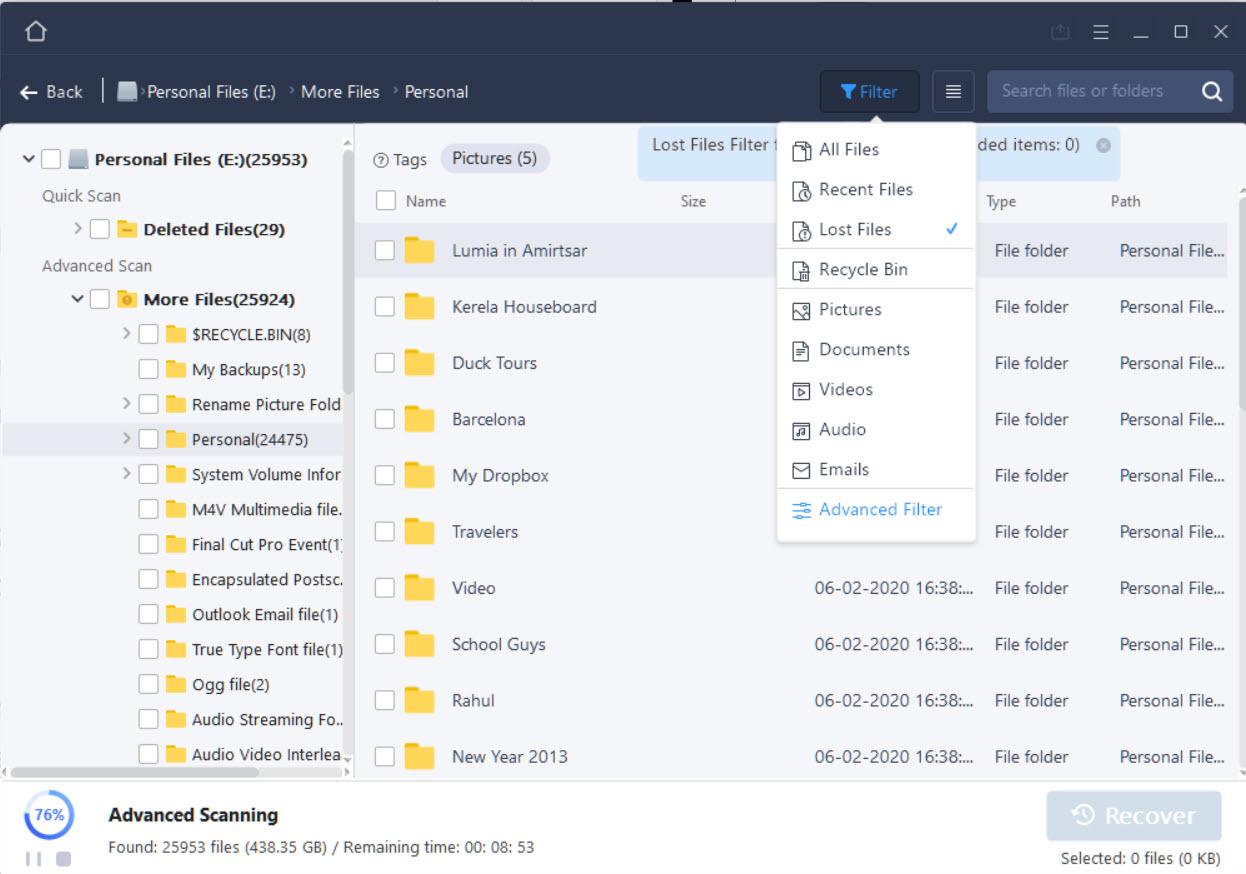 On top of the scan result, you have a filter and search option which you can use to find a specific file or folder.
The Advanced scan starts immediately and keeps running in the background, and you get an estimate of the time of completion.
Unlike the Quick Scan, Advanced Scan offers more crude results. Along with the folders, you will get to see more categorized folders such as JPEG, ZIP, GZip, MPEG2, Tagged image, Outlook Email, and so on.
That said, here is a big catch you need to follow. The default scan results show all types of files, including one which is present on the computer. Since we are looking only for deleted files, click on Filter and select Lost Files.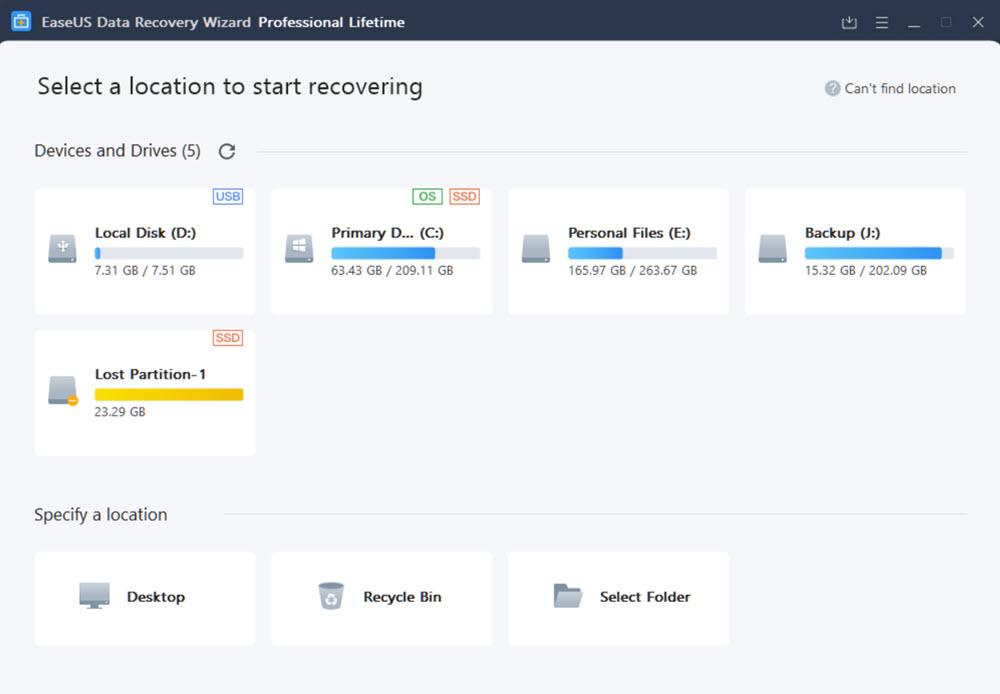 Step 3: Recover Files and Folder
Now that you are sure which files to recover, select them one by one, and then click on the Recover button. You can also right-click on each of them, preview, and then choose to recover.
If you do not have time to recover right away, click on the save icon on the top-right of the software, and save it. So, the best way to use the software is to run it at night, save the result, and recover the next day.
Conclusion
Recovering deleted files is not a straightforward job. It takes the right software to bring it back and make sure they are correctly saved. EaseUS Data Recovery Wizard does a fantastic job of finding the deleted files and recovering them.
It is available for both Windows and macOS. It comes in three versions—Free, Pro and Technician.
The free version offers recovery of up to 2GB data, which should be enough to know if the software is working, and then you can upgrade to the Pro version, which offers a trial version as well.