This is the age of the mobile phone. These handy devices reign supreme in the high tech society of today which feature Macs and other PCs, because they are versatile and portable.
It is possible to do almost everything on your phone these days and people are keen to make maximum use of their capabilities. Gaming on mobiles is one of the activities that have caught on in popularity. Casino games have increased in popularity now players can access the games on a mobile device. One popular casino game typically played on a mobile device is poker.
Profits from mobile gaming hit more than $77 billion a couple of years ago, which is close to half of the total revenue for the games industry. There is a feverish debate about whether the iOS or Android operating system provides the best games experience.
That is not the only area of dispute though; as people also argue about whether it is better to play using an app or browser.
The Two Mobile Gaming Options
There are two different options for people who want to play poker games on a mobile: using the internet browser on their phones or downloading a poker providers gaming app. Both of these have arguments in their favor, and each has gamers who prefer it to the other.
Playing a poker game via the internet browser on a phone means the player needs to find the chosen poker provider website on Google or some other search engine, click on it and log into the site. Some players may also opt to use a gambling affiliate site that will rank poker sites based on reviews and the best promotions on offer to find the poker site that is most suitable for them.
By contrast, to play a game of mobile poker using an app, they will have to log into either the Google Play Store – for Android games apps – or the App Store for iOS ones, find the app for their chose poker provider and download it to their phones. For this, players may opt to do their research beforehand on a browser to find the best poker provider for them.
Although both involve the internet up to that point, once a games app has been downloaded, the player does not need to use the internet any further to play it unless playing live poker games or poker tournaments, some providers offer players to play in an offline mode. That gets at one of the key differences: mobile browser gaming always requires a net connection while app gaming does not.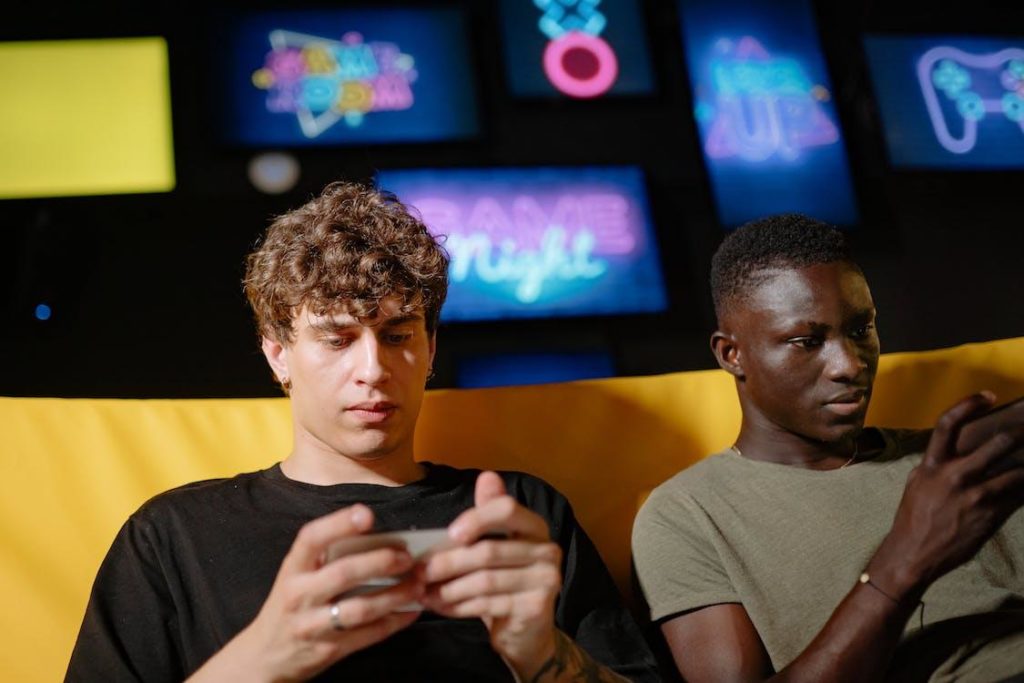 App or Browser: Which Is Better?
There is no straightforward answer to the question of which method of mobile gaming is the best. It will depend on what is most important to you as a gamer.
As mentioned above, games look better on mobile screens via an app compared to a web browser. They also tend to run more smoothly, although the shift from Flash to HTML5 for browser gaming has closed the performance gap.
Apps store user data locally, which browsers do not, making the retrieval of it simpler. That means they still have the edge when it comes to games performance.
Another argument in support of app gaming is that they function better because developers are investing more in app gaming. They can also be played whether you are connected to the internet or not.
That might make it sound like apps win out conclusively, but it is not quite so simple. Web browser gaming also has its advantages.
Games apps take up a lot of space on a phone, which can cause problems if your device does not have sizeable internal storage. By contrast, a web browser does not use up any storage space.
The performance issue is also complicated. Overall, games perform better via app, but these can be vulnerable to bugs. Furthermore, if you use an app you will have to individually download any updates to the game.
By contrast, games on a browser update automatically. Apps also frequently require particular hardware – such as a quad core processor or certain amount of RAM – to function properly. So, you see; there are arguments for both.
Whether you are better playing mobile games using apps or a web browser will depend on the type of games you like and the capacity of your phone.
Which option is preferred for poker players?
Poker apps tend to be the preferred option for casino gamers, as they are convenient and are easily accessible in comparison to using a browser. By using a poker app, players are also able to save their personal details, such as payment details, so players can easily add funds to their accounts without needing to re-add their details.
By playing on an app with a specific poker provider, players also have the option to receive notifications about new bonuses and promotions as well as upcoming poker tournaments.
Some players who play poker games more casually may opt to play via an internet browser, so their details are not saved, and they can choose to play when they decide.
Overall, it is known that poker is now commonly played on a mobile app, due to easy accessibility, convenience and the option to save details as well as receive notifications.