While surfing the net you come across a beautiful font in a logo. You'd love to use in your design. You try to find out which font is it only to realize that its almost impossible to guess the font from the logo or image. Sounds familiar?
Now you can identify the font used in a logo or image using WhatTheFont.
How to Identify the Font Used in an Image or Logo
• First download the image or logo whose font you need to identify.
• Go to WhatTheFont and upload the image.
• Now WhatTheFont will try to guess the characters used in the image and will show you its guess. You now need to enter the respective characters that the site couldn't guess. And correct the ones that are guessed wrong.
• Press next, and you are done. The site will tell you the font used in the image.
This is how I found that the font used by Google is Catull.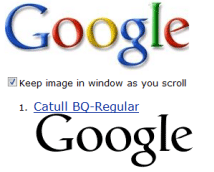 WhatTheFont currently supports all common image formats including GIF, JPEG, TIFF, BMP etc.
The only problem, if you can call it a problem, is that you need to purchase the font after the detection. Free downloads aren't available. I suggest a quick Google Search before purchasing won't hurt :)