If you have a read only PDF file that is restricted in multiple ways, like you cannot select the text from the pdf, you can't print the pdf file or you can't copy text from it even if you can select it, then you may want to remove the restrictions from it.
Most read only and restricted pdf files have a master password, which unlocks the file for any kind of operation like selection, copying or printing. Unfortunately, this master password is not released when the pdf file is distributed online.
Restrictions on pdf files are implemented by pdf creator to protect their work from content thieves. However, these restrictions are really annoying sometimes. You can easily remove all these restrictions using this free web based tool, PDFPirate.
Remove Restrictions From PDF Documents Using PDFPirate
• Go to pdfpirate and upload the read only pdf document that is restricted.
• Now pdfpirate will scan the document and all the restrictions from the pdf file will be removed instantly. You can then download the pdf document.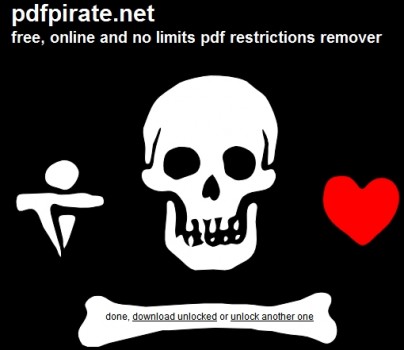 The downloaded pdf file will NOT be read only and you can now easily select, copy, or print this modified unrestricted pdf document.
PDFPirate works great on almost all PDF documents. However, if you have a pdf document that needs a password just to open it, then PDFPirate will not work on it.