Just like Microsoft Office shows you a list of recent documents you opened, the VLC media player also keeps track of all the recent video and audio files you opened. You can find the list of recent media files in Media > Recent Media.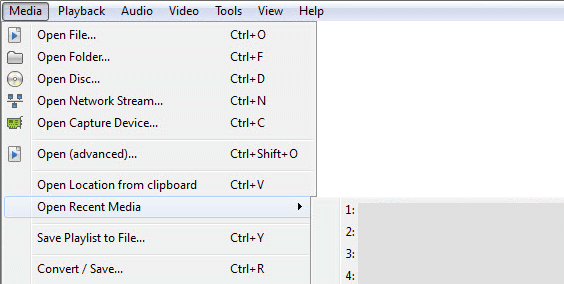 Its a great feature as you can easily open any media file that you played recently. You can also use the shortcuts Ctrl + 1, Ctrl + 2 and so on to open the recently played media files. Note that it will show the media files in the list even if it has been moved or deleted from its original location when it was played. In this case, the VLC player still has it old location in memory and it won't be able to play the file if you click on it.
The only issue with this feature is the if you share your computer from others, you have no privacy related to the media files you are plying with the VLC media player. Its not a big issue as you can simply click on 'Media > Recent Media > Clear' to delete the recently played videos. But it can get annoying if you have to do it every time you use the VLC media player and most of the times you will forget to clear the history.
The solution is to permanently disable the Recent Media history feature in VLC media player. To disable it, go to Tools > Preferences. In the Interface Tab, uncheck the 'Save recently played items' option and click on Save to save your preferences.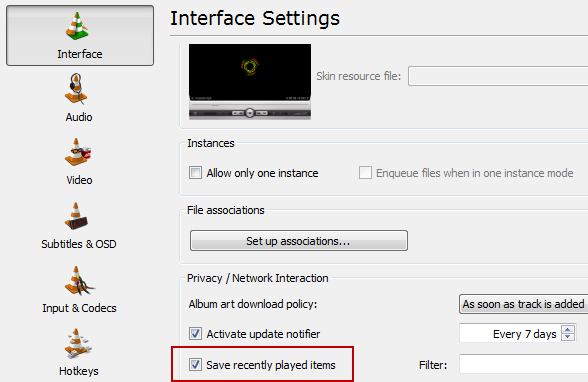 After making the change in preferences, restart VLC media player once.
That's it. Now you will not see this feature in your VLC media player.
Note that even if you disable it from the interface, VLC will still remember the history of the videos it playes just before you disabled this feature. So, don't forget to clear the current history before you disable this feature in VLC media player.
Also, do you know you can also repeat a song in VLC media player, play YouTube videos in VLC and even set a Video as a wallpaper.