Earlier I posted about how you can configure Mac OS X to automatically change and rotate desktop wallpaper. Now, you can have the same feature on Windows Vista and Windows XP as well. Although these operating systems do not include this functionality by default, you can use third party tools to change the desktop wallpaper automatically at specified interval of time.
John's Background Switcher and Wallpaper Juggler are 2 Free Tools To Automatically Change Your Desktop's Wallpaper on Windows Vista and XP.
John's Background Switcher
John's Background Switcher sits in the notification area(or system tray) of Windows, and automatically rotates the desktop wallpaper based on pre-configured settings.
Its a very feature rich software and I can't think of any feature that it doesn't already have.
You can configure it to select images from almost anywhere, for instance,
1. It can pick any specific image from your computer or it can select random images from a folder containing your favorite images.
2. Flickr – You can configure it to select images based on tags, people, or you can configure it to choose random pics.
3. Phanfare and Smugmug Albums
4. Facebook – It can pick images from your own album or your friends' albums.
5. Picasa Web Albums – Configure it to pick images from a specific albums or search images based on a predefined query.
6. Yahoo Image Search
7. RSS Feed – You can use any RSS feed that contain images such as one from Photobucket or DevianArt etc.
Its really cool that you can use images from your private online albums as desktop wallpaper using this software. You just need to provide the user name and password to it and it automatically handles all the authentication details, grabs the images and displays them as your desktop wallpaper.
It can also convert any image to black and white and set it as your desktop background. It can even display a calender on your desktop.
You can configure it to take more than one photo at a time and display them in a variety of cool effects as a desktop wallpaper. For example, the Snapshot Scrapbook mode displays the images like this,
or the mosaic mode shows thumbnails of multiple images on your desktop in this fashion,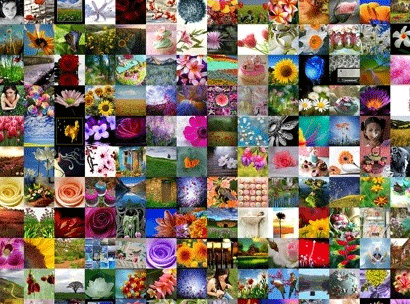 There are many more settings that you can access from the More Settings. It includes the startup settings, support for multiple monitors, battery settings for laptops etc.
One more thing, you can contact John directly on the official support forum of John's Background Switcher if you have any problem using it.
So, overall this software is the Grand Daddy of Wallpaper Managers for Windows Vista and XP.
Download John's Background Switcher from this page.
Wallpaper Juggler
If you are overwhelmed with the number of features provided by John's Background Switcher, or if you have an older machine that doesn't have enough memory to run it effectively, then you can try Wallpaper Juggler.
Even though I have a latest machine, I still prefer this software over John's Background Switcher because of its ease of use. It simply picks wallpapers from a folder on your computer or downloads them from WallpaperStock and InterfaceLIFT and sets them as your desktop's wallpaper. You just need to define a time interval when it should rotate the wallpaper and the rest is handled by it automatically. It can automatically adjusts the wallpaper's size and position if it doesn't matches your monitor's size.
It includes some very simple configuration options, like you can set it to start with Windows, ask you before changing the wallpaper etc.
Download Wallpaper Juggler from this page.
If you know about any other software that automatically rotates the wallpapers on Windows Vista and XP, and has more features then the two software featured above, then do let me know about them using the comments below.
Please let me know if you like my software reviews. Your opinion is very important in improving the quality of HackTrix
Enjoy!
Image credits, cybernetnews