You can easily configure Mac OS X to change the desktop wallpaper automatically at predefined interval or randomly. Here's how to do it,
1. Create a new folder and move all your favorite wallpapers to this folder.
2. Click on the desktop while holding the Ctrl key, and select Change Desktop Background from the popup menu.
3. Now in the Desktop & Screen Saver settings, click on the + button in the bottom left corner. Then add the folder that you created in first step to the categories,
4. Select this newly added folder, and check the Change Picture checkbox at the bottom of the Desktop & Screen Saver settings.
By default, it changes the wallpaper every minute. You can change it by choosing appropriate interval from the drop down list next to the Change Picture checkbox.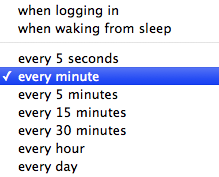 You can also check the Random Order checkbox to change the wallpaper at random intervals.
5. That's it. Now close the window by pressing Command-q. The wallpaper will now automatically change based on your preferences.
Note that this is the first Mac tutorial on HackTrix. Please let me know what do you think about it.
Enjoy!