Most of us use multiple Gmail accounts these days. One for official work, and another for registrations on random sites, yet another for feeds and newsletter subscriptions etc. Now, no need to go through the logout-login cycle to switch Gmail accounts. You can be simultaneously logged into multiple Gmail accounts with the help of any of the following firefox extensions-
Gmail Manager
Gmail Manager is a cool firefox addon that displays all your Gmail accounts details, like unread messages etc. in a single window. Go to the official page of Gmail Manager and click on Add to Firefox button to begin the installation. Once the installation is over, it will prompt you to restart the browser. After restarting, you'll notice the Gmail icon in the bottom right corner of your firefox window. Its the Gmail Manager.
Now, right click on this icon and begin adding Gmail accounts,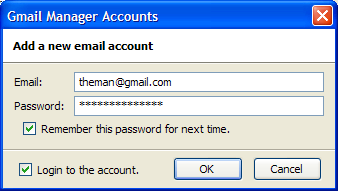 Once you add all your accounts, you'll see all the details about it, like total unread messages in the right click windows of Gmail Manager.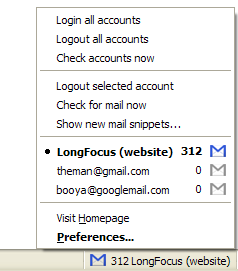 You can simply click on any of the Gmail account to open it in a new tab.
You can also configure everything that Gmail Manager does, like remembering passwords, auto logging to Gmail accounts on firefox at startup etc. To configure these settings, just right click on its icon and click on Preferences.
CookiePie
CookiePie basically enables you to store multiple cookies for same website. Since Gmail uses cookies to maintain session information, you can use CookiePie to login to multiple Gmail accounts at the same time.
To do this, first install CookiePie from its official page. Now use firefox to log into the first Gmail account as usual. To log into another Gmail account, open a new tab, then toggle on/off the CookiePie by clicking the small icon on the tab.
Using CookiePie can be very non-intuitive, so check out the following video to clarify things,
There are many more ways to log into multiple Gmail accounts simultaneously in firefox. For instance, you can open different accounts in different profiles, you may use IEtab for this etc. But the above two methods are relatively easier to use. What do you think?