One of the reasons why most people don't want to move to another mobile phone is because of the risks associated with the transfer of data. It is not only difficult to transfer data from one smartphone to another but there is also an additional risk of loosing the data while making the transfer. The best solution to these issues is to use a dedicated software to transfer the data from one device to another.
There are many software which help you in transferring data from one mobile phone to another. One of the best is Wondershare MobileTrans. Wondershare has developed a lot of mobile related software in past few years and they have a lot of experience in major Mobile technologies including Android and iOS.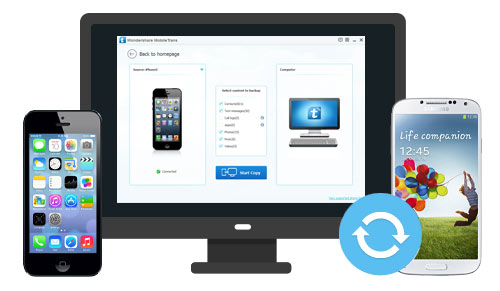 Wondershare MobileTrans is marketed as a one click phone to phone transfer solution. With the help of this software you can easily transfer all your contacts, call logs, text messages, photos, calendars, video and other stuff. You can easily transfer contacts from iPhone to iOS, Symbian, Blackberry and vice versa.
The latest version of MobileTrans also supports the latest version of Android and iOS which allows you to easily transfer your data on your newly purchased Android and Apple devices. With new releases of Apple and Android version, Wondershare also updates MobileTrans to support the new versions.
Wondershare MobileTrans Features
MobileTrans allows you to easily backup and restore data. If you have not purchased your new smartphone you can easily create backup of your current smartphone and restore it on your new smartphone later on. Simply connect your current working smartphone with your PC and open Wondershare MobileTrans. Create backup of all the data which is present in the software and once backup is created restore it later on your new mobile device.
The backup is not only useful to restore it on another device but is great just to keep your current device's data safe. The software allows you to easily create backup on your any Apple or Android device which can be restored at a later date if needed.
If you are ditching your old iPhone or your Android phone you can use the backups created by your old devices. If you were using software like Mobile Go, Blackberry desktop suite or Samsung Kies, MobileTrans will retrieve the backups which were created by these software's and will use them for transferring the contacts, messages on your new device.
You can transfer your iTunes data to any device. MobileTrans allows you to move all your favorite tracks and playlists stored on your iTunes account to your Android device, iPhone, iPod, iPad. This is the best way of transferring all your iTunes data on your new Android device.
MobileTrans allows you to transfer all the data which is present in your iCloud account to your Android device. Along with it you can transfer all the contacts, messages, files which are present in your iCloud account to your Android device.
Supports All Major Devices

MobileTrans supports more than 3000 smartphones and mobile devices which are available from different companies on different mobile networks. Some of the manufacturers which this software supports are Samsung, Apple, HTC, LG, Nokia, Huawei, Google, ZTE, Motorola and many others. The software is fully compatible with the major mobile networks such as AT&T, Sprint, T-Mobile and Verizon.
How To Transfer Data From One Mobile Device to Another Using Wondershare MobileTrans
If you have already purchased Wondershare MobileTrans but feel that its a bit complicated to use, here's a quick guide on how to use it to transfer all the data from one mobile device to another. The transferred data includes videos, sms text messages, images, contacts etc.
First, connect both your devices to your computer. To connect your device open Wondershare MobileTrans and click on Start button with which you will enter in phone transfer mode. Connect your both smartphones with computer using USB cables. Once both your smartphones are detected by MobileTrans both your smartphones will be visible on the screen.
Now, you will see all the data which can be copied. The data will be present in the middle. You simply have to select the data and once you have marked all the data simply tap on Start copy option. All your selected data will be copied on your destination smartphone.
How To Completely Erase Data From a Mobile Device Using Wondershare MobileTrans
One of the new features which is introduced by Wondershare in MobileTrans is permanent deletion of data on your old phone. If you are thinking to sell or donate your old smartphone but want to keep all the personal data safe or don't want it to be misused, you can use this feature.
All your data will stay private as it will be erased by Wondershare. No data will be stored on any servers and will be deleted permanently.
There are two options which come under this feature, first option will erase all the data from your mobile device in a single click. The second option lets you scan your device for any deleted data that can be recovered by forensic software. You can then delete this data as well.
Here's a quick guide on how to use this software to wipe the data from your device.
First, connect your mobile phone to your computer. MobileTrans will automatically detect the phone and once the primary window is opened, you can click on Erase your old phone option. This will open up a data erasing window on your screen.
On the lower right corner of the screen you will see Erase Now button. Click on Start button and all the data will be removed from your smartphone.
Wondershare MobileTrans Pricing and Buying Options
Wondershare MobileTrans is available both for Windows and Mac and starts from $19.95 which comes with one time user license. If you want to have a peek of the software you can try the trial of the software which you can download it from this link.