GoDaddy is probably the biggest domain registrar today. If you are one of their customer and you want to sell your domain to another customer on GoDaddy, then you can directly push your domain to the other account. Pushing a domain is the easiest procedure to transfer a domain from one account to another on GoDaddy.
How To Push A Domain Name From One Account to Another on GoDaddy
1. Log in to GoDaddy's Account Manager.
2. Under the My Products section in the left side, click on Domain Manager.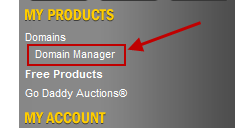 3. Select the domain(s) you want to push to another GoDaddy account. Then click on Account Change.
4. Now a pop up dialog will open. Here you have to fill the customer-ID or login name or email address of the customer that you want to transfer the domain to.
Just choose the option that says, Use details from specified customer account, unless your buyer wants you to change the details for this domain.
Note that to use this option, you must know the customer-ID or login name of the new customer, as GoDaddy will fetch information from this account. So, ask the buyer about this in advance.
After this, just follow the on screen instructions, which are basically accepting the GoDaddy's agreement and terms. Then click Finish. After you finish the transfer, the new owner will get an email on how to accept this domain.
Please use the comment form below to ask any questions that you might have regarding this domain transfer process.