Normally if you want to listen to any Hindi movie song, you either download it from some free music sharing website or you try to find it on YouTube. But now you can listen to almost any Hindi Bollywood movie song online on Google music.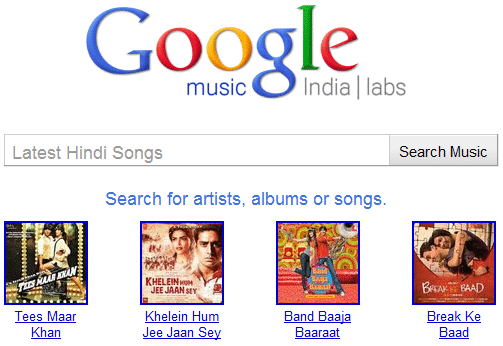 Google has partnered with Saavn.com and In.com to launch a Indian music service where you can search and listen to your favorite Hindi songs from bollywood movies as well as from individual music albums.
Its easy to find any specific song as you can filter your search by song name, movie title, singer's name, actors' name and so on. You can listen to any song online at this page no matter how old or new it is.
Tip: Use the query "new songs" to get the list of songs sorted by their release date.
The only disadvantage of this service is that it streams music via Flash, thus making it useless for mobile phones. Also, there is no play list support yet. But since its still in Google Labs, these features may be added soon. Until then, enjoy the Hindi music on your computer!