Twitter is banned in most of the offices for obvious reasons. But if you are an obsessive compulsive twitter user ;) , and you can't live without tweeting, then here's an easy way out. With SpreadTweet, you can easily use twitter in office and everybody will think that you are working on MS Excel workbook.
SpreadTweet is a twitter client that looks exactly like Microsoft Excel. All the tweets and stuff are displayed neatly in rows and columns just like MS Excel interface.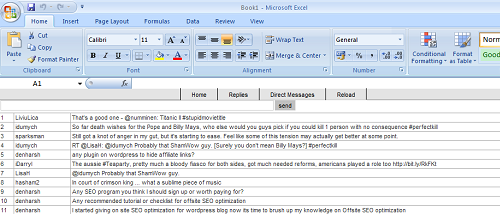 Note that to disguise as an Excel workbook completely, SpreadTweet doesn't displays the avatars.
This software comes with different looks that mimics MS Excel from Office OS X (for Mac), Office 2003 (Windows) and Office 2007 (Windows). So you can choose the look based on the version of MS Office installed in your office.
SpreadTweet is an Adobe Air application. So you need to install adobe air on your office computer before using it.
You can download SpreadTweet from this page.