If you have found a great tutorial or a recipe online, then you may want to keep a pdf copy of the web page for future reference. This is because saving the webpage as HTML doesn't always work.
You can now convert any webpage to pdf instantly, without using any third party software, if you use Google Chrome as your web browser. Just use the print to PDF option in Chrome. Here's the procedure:
• Open the webpage that you want to convert to pdf in the Chrome browser.
• Press Ctrl + P (Cmd + P for Mac) to open the print window. You can also click on the wrench icon in the top right corner and select Print from the drop down menu.
• In the destination option, select Save as PDF option, and click on Save.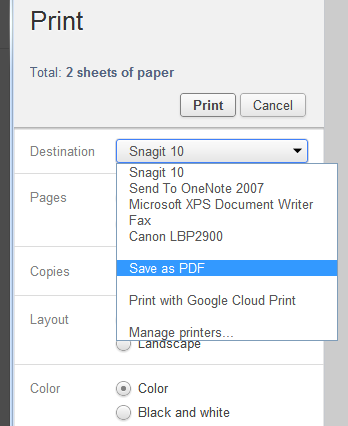 That's it. You'll get a pdf copy of your webpage. Before saving the webpage as pdf, you can also choose only selected pages to be included in the pdf. You can also choose if you want a black and white or color pdf and a landscape or portrait layout.
Check out the video below to see how I convert and save this page as a PDF:
The 'Save as PDF' option of Google Chrome can also be used to convert any image or text file to pdf. Just open the image or text file in Google Chrome and use the option to convert it into a pdf file.