If you just updated the operating system on your computer to Windows 8, then you will note that its user interface is very different compared to earlier versions of Windows. This new look, called Metro UI, has many new features that makes the work easier and increases productivity but it takes time to get used to it.
Suggestion: Its a good idea to dual boot Windows 8 and Windows 7 for some time to get a good understanding and familiarity of the Windows 8 Metro UI.
One of the first thing you will notice after upgrading to Windows 8 is that there is no close, minimize or maximize buttons in the top right corner of the applications and programs you are running. So one of the most frequently asked question by new Windows 8 users is How to close Apps on Windows 8?
How To Close Apps and Programs in Windows 8
The answer depends upon whether you are using Windows 8 on a computer (with mouse and keyboard) or on a tablet like Microsoft Surface Tablet (with touch screen).
If you are using a touch screen Windows 8 tablet, touch at the top of the app and wait for a couple of second. This will minimize the app. Now drag it to the bottom of the screen and hold it there until it fades out. This is the easiest way close the app on Windows 8 tablet. This method of closing Windows 8 apps is also applicable on desktop computer except that you need to use the mouse pointer instead of touch.
Another way to close any Windows 8 app on your computer is to move the mouse pointer in the top left corner of the screen. This will display the list of all the open apps. Just right click on the app you want to close and click on close.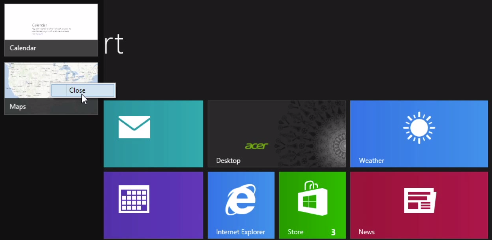 If none of the above methods work, you can still close any app on Windows 8 using the age old Alt + F4 method. If you don't know about this method, it means simply press Alt + F4 while the app is active and it will close.
Update: If all 3 ways to close the Windows 8 apps mentioned above fails, press Ctrl + Alt + Del keys to open the task manager and then close the app (End Task) from there.
Hope you were able to close Windows 8 apps now!