Recently I posted how you can watch live IPL matches online for free. But what if you have no access to both your computer and TV? In this case, you can watch live cricket on your mobile phone!
There are two ways to watch cricket live on your mobile phone, via internet using the GPRS, and using the mobile apps to watch the matches.
Use Internet on Your Mobile To Watch Live Cricket
If you have a GPRS enabled mobile phone with a very good network connection, then you can watch live cricket matches easily by visiting the websites that stream the cricket matches live online.
The only issue with this approach is that the internet connection on your mobile phone must be very good. I suggest you to go for a 3G network connection to enjoy the uninterrupted live video streaming of cricket matches.
Use Mobile Apps To Watch Live Cricket
To watch live cricket on Nokia mobile phones or phones running on the Symbian operating system, you can use these two apps to watch cricket live.
Mobile ESPN app shows you live scores with ball by ball updates. You can see videos, stats and players' profiles instantly.
Yahoo! Cricket Scores: Just like the Mobile ESPN app, it shows you live cricket scores on your nokia mobile phone. The only issue with this app is that it doesn't work with some older nokia models. If it doesn't work on your phone, then try using the Mobile ESPN app.
Note that most Nokia phones run on Symbian operating system. Both the above apps can be downloaded for free from the OVI store.
To watch live cricket on Android Based Mobile Phones, you can use the Cricket Live app. Its the best free android app that keeps you updated with live cricket scores on the go! Features includes live scores, mini card widget support including separate batting and bowling cards, complete series and venue info updates, toss info etc. The refresh rate of scores is customizable.
To watch live cricket on iPhone, use Cricket score for iPhone. Its basically a live cricket scoreboard for your iPhone. The scores are updated after every 30 seconds if you have enabled the auto reload feature. If multiple matches are being played on same day, then you can switch between them in a single click.
To watch live cricket on Blackberry or any java enabled mobile phone, you can use Cricinfo Snaptu app. Just like the other apps it can display live cricket scores, commentary, scorecards etc. on your blackberry or java supported phone.
Mobile Apps For Live Cricket That Work on All Platforms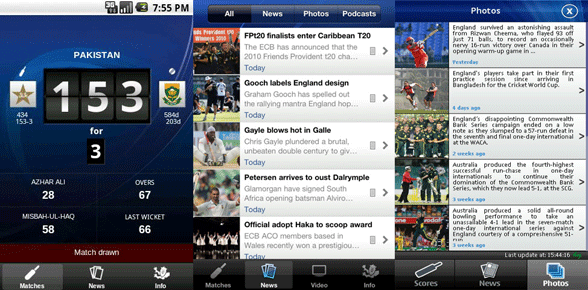 There are some mobile apps for live cricket that are available for all the mobile platforms, including Symbian, iOS and Android. Two best apps in this category are:
ECB Cricket: Great app that provides individual batting and bowling scorecards along with the live scores. Also provides photo galleries of the matches and after/before match events. You can also configure this app to notify you of the fall of wickets. Download iPhone Version, Android Version, Symbian Version
of ECB Cricket app.
Circitch: The most advanced app to watch live cricket on the mobile phones. But the disadvantage is that all the advanced features are available only for the paid version of this app. The free version is just like the other apps listed on this page. You can download Cricitch for your phone from this page.
---
Please let us know if you come across any good mobile app for live cricket scores. You can use the comments form below to contact us. We will update this page immediately after testing the app suggested by you.