Are you tired of many keyboards and mice hogging up all the space on your desk? Do you want to control two monitors on two different computers with single mouse and keyboard? Then there is a good news for you. You can easily do this using Win2VNC.
Win2VNC enables you to use two computer screens from single mouse and keyboard, even if they are connected to two different computers. When you take your mouse pointer to left (or right) edge of one screen, the pointer will appear on another screen!
Following are some screen shots of the Win2VNC settings and configuration options,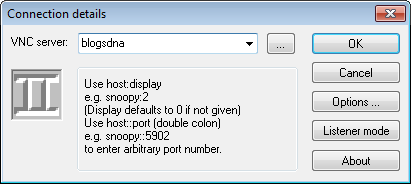 At the time of writing Win2VNC supports Windows XP only.
You can download Win2VNC from this page. Don't forget to read this extensive user manual of Win2VNC before.
Enjoy!