Whenever you type a password in a web form, for instance, while logging into Gmail, firefox prompts to ask you if you'd like to store this password,

If you click on the Remember button, firefox remembers your password and auto fills it the next time you open the same web page. But do you know that it is very easy to view all these passwords in plain text format. So, anybody with physical access to your computer can easily crack (read?) all your passwords. Following are two ways to do this-
1. This method doesn't require any third party software. Simply open the firefox and go to Tools -> Options , and click on the security tab. Under this tab click on the Saved Passwords button.
Now, in the saved passwords window, click on Show Passwords button. You'll instantly see all the password saved by you in the firefox.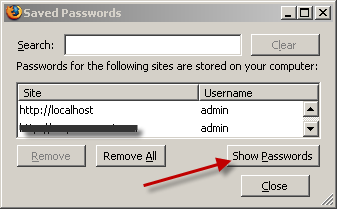 This method displays passwords stored only by the current profile of firefox. If you want to see the passwords by another profile, then start firefox with that profile, or use the second method.
2. This method is even more scary. You will be able to view all the passwords stored by all the profiles of firefox, from the same window.
This method involves use of PasswordFox. This is a small program which doesn't even needs installation. Simply download it from here, and run the executable PasswordFox.exe. The main window of the program will instantly display all the usernames and passwords stored by firefox.
To view the passwords stored by other profiles, click on the folder icon on the program window, then click on the browse profile folders button and choose appropriate profile.
So, next time, think twice before clicking on the Remember button.