Windows use balloon tips to show all new system critical information about your computer. For instance, if new updates are ready to be installed, or if your computer is connected to the computer, Windows shows this info using balloon tips like this.

As your experience with Windows increases with time, these notification balloon tips start getting annoying as you already know what you are doing and you probably don't want Windows to tell you more about that.
If you want to disable these balloon tips permanently, then it can be done easily. First go to Start > Run, typr regedit and press enter to start the registry editor. Then Navigate to this key:
HKEY_CURRENT_USER\Software\Microsoft\Windows\CurrentVersion\Explorer\Advanced
Now look for a DWORD value EnableBalloonTips in the right pane of registry editor. If it is already there, double click on it and give it a hexadecimal value 0. If you don't see any such key, then right-click the right pane, create a new DWORD value, and then name it EnableBalloonTips. Double-click this new entry, and then give it a hexadecimal value of 0.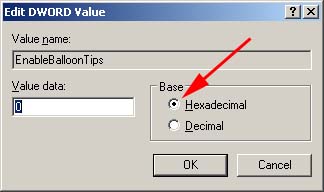 Press OK and close the registry editor and restart your computer. That's it. Now you will never see those annoying balloon tips again.