Gmail has recently added support for composing mails in regional Indian languages. At the time of writing, it supports Hindi, Kannada, Malayalam, Tamil and Telugu.
How to compose an email message in a regional language?
When composing a new mail, look for a small icon with an Hindi character in the left corner of the formatting bar.
Click on this icon and choose the appropriate language from the drop down list that appears,
Once you choose the language of your choice, you can start typing the word in English and gmail will automatically transliterate it into the respective word from the regional language. For instance, if you choose Hindi and type namaste, it will be transliterated to नमस्ते. Similarly, if you choose Tamil and type vanakkam, it'll be transliterated to வணக்கம்.
Note 1 – If you don't see any formatting toolbar and just see a link Rich Formatting then just click on this link and the formatting toolbar will be instantly visible.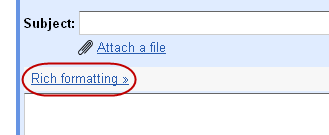 Note 2 – Transliteration feature is automatically enabled if you are in India. But if you are not in India, or if you don't see the transliteration icon, then click on Settings in the upper right corner of Gmail interface and check the Enable Transliteration setting in the Language section.