Angry Birds is now available on almost every platform you can imagine. You can play angry birds on your computer, on your web browser, on your iPad, iPhone, Windows Phone, Android etc. But now you can also play Angry Birds on Facebook.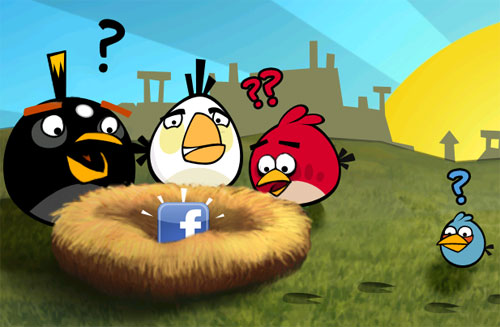 Angry Birds for Facebook has just launched today. To start playing Angry Birds on Facebook, go Angry Birds Facebook app, and click on Play Game to start playing.
Angry Birds on Facebook is slightly different then the normal Angry Birds game you are used to. Here you can compete with your Facebook friends in the game and also send gifts and power ups to your Facebook friends.
Angry Birds for Facebook has some new special effects included like, explosions, smoke and lightning. The game comes with some new power ups like Birdquake, Super Seed, Sling Scope and King Sling.
Angry Birds For Facebook Power Ups
The Birdquake power up rattles the battle. It helps you destroy the pigs' defense.
Sling Scope power up helps you laser target your shot for very high precision.
King Sling power up helps your birds to gain maximum velocity and power.
Super Seeds power up will turn any of your bird into a pig killing machine.
First power ups are free. But you will need to pay to get more of these power ups. The cost will be $1 for 20 uses of the power up.
If you don't want to spend money for these special powers, you can still earn them as a mystery gift from friends as you play the game on Facebook.
Angry Birds for Facebook needs Flash Player 11 support which is needed for 3D graphics. So update your flash player and enjoy Angry Birds on Facebook.