Are you getting the message Internet Explorer has stopped working again and again while using Internet Explorer? Is Internet Explorer crashing on your computer with the message,
A problem caused the program to stop working correctly. Windows will close the program and notify you if a solution is available.
You can stop Internet Explorer from crashing easily. Since it can crash for multiple reasons, you must try the following solutions one by one, and one of them will fix Internet Explorer issue on your computer.
Disable Protected Mode: To do so, start Internet Explorer and go to Tools > Internet Options. Then open the Security tab and uncheck the option that says Enable Protected Mode.
Reset All Settings to Default: If disabling the protected mode do not prevent Internet Explorer crashing, then try resetting Internet Explorer to defaults. To do this, go to Tools > Internet Options, select Advanced tab, and click on the Reset button.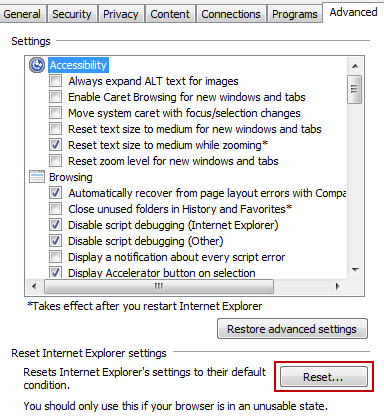 A warning message will be displayed. Read it and then click on Reset button.
Reinstall Internet Explorer: If none of the above methods work for you, then you have to reinstall Internet Explorer on your computer. Go to this link to download and Install Internet Explorer 8.
If you still can't get Internet Explorer to work normally, or if you are still getting the error message, Internet Explorer has stopped working, then the last solution is to either reinstall the Windows operating system or use a different web browser.