Now that the IPL matches are starting very soon, I have started looking for ways to get live cricket scores, so that I never miss the thrill. Here's a cool way to get live cricket scores from Google. Simply, type cricket in the Google search box and you'll get the live scores of all the cricket matches that are being played at that time.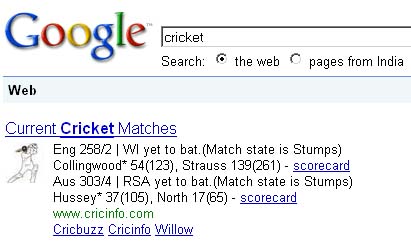 What if the number of matches played on a particular day is too high and Google doesn't displays the scores for the match of your favourite country? Well, simply append the name of the country to the word cricket. That is, search for cricket India or cricket score India New Zealand etc.
Another thing to note is that these live scores are coming from any one of the three sites, CricBuzz, CricInfo and Willow. The site from which the scores are being displayed in a particular query is displayed in green color. To switch to another site, simply click on its link below the scores.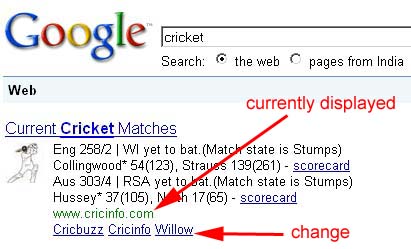 Enjoy this festive season! (Well, cricket season IS the festive season, Isn't it? ;) )