These days most of the online giveaways ask you to first tweet a link to the giveaway page and then post the link to that particular twitter status update in comments. However, if you are new to twitter, it will be very difficult for you to get the link to a particular tweet. Here's how to do it,
1. Log into twitter and click on your twitter name in top right corner.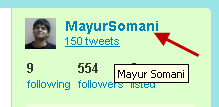 2. This will display all your status updates (tweets). Now locate the tweet that you want to link to.
3. Hover over that tweet and you'll see a date/time showing how long ago it was tweeted.

4. Click on this date/time to get the URL.

That's it. Hope you win all the online giveaways!