If you are from India, then you probably started your online life from Orkut. But many of us have since migrated to Facebook, as its an international community, unlike Orkut which is popular only in India and Brazil.
If you left Orkut a long time ago, here's a great new feature added to Facebook, using which you can reconnect to all your Orkut friends on Facebook. Its called, Orkut friend finder.
Using Orkut friend finder, you can find all your Orkut buddies on Facebook, and then add them as friends. You can also invite those who are not yet on Facebook using this feature.
Using Orkut friend finder on Facebook
To get started, log in to Facebook, and click on Friends link in the left side. You will see all the pending friend requests on this page. Scroll down to find a section that says, Find your friends, wherever they are. Here, just look for the Orkut logo and then click on the link that says, Find Friends. Facebook will then ask you your Orkut's login details to import all your Orkut Friends.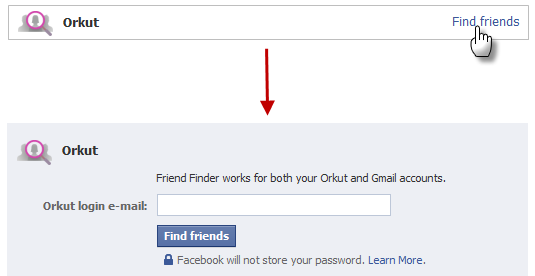 Just enter the details and wait for few second until Facebook imports all the data. After the import process is complete, Facebook will show you all your Orkut Friends that are also on Facebook. You can add some, or all of them as Friend immediately. After this, Facebook will display the rest of your friends who are not yet on Facebook. You can then invite them to Facebook.