There are thousands of different applications available on Facebook and I am sure you get multiple invites everyday from your friends to join new applications. There is nothing wrong with having too many applications added to your profile. Its just that,
1. They clutter your Facebook stream/updates. And sometimes it gets really annoying.
2. Applications have full access to your data, and some applications are developed solely to gather your personal information so that they can send you spam emails.
So if you want a clean Facebook updates page and want to keep your private information really private then you should delete any unwanted applications from your facebook account. Here's the procedure-
How To Delete or Remove Any Application From Your Facebook Account
Once you are logged into Facebook, click on the Account link in the top right corner, and choose Application Settings from the drop down menu. This will take you to a page where all your applications will be listed. To remove any application, just click on the X button in front of it. Facebook will immediately confirm if you really want to remove this application. Just click on the Remove button and the application will be immediately deleted from your Facebook profile.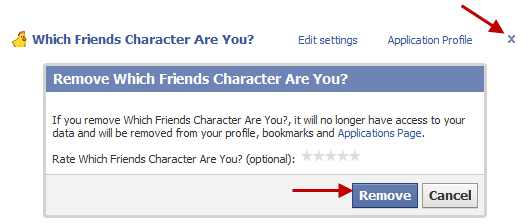 Repeat this for all the application that you want to delete. Enjoy the clutter free and private Facebook environment!