Amit Agarwal Asks,
Hi Mayur! I have a question related to Google Adsense program. I used AdSense for Search to create a custom search engine for my website. Now I want to modify some settings in the adsense for search unit but I can't find it in the Modify Ads section. Hope you can help me…
Hi Amit! Your problem is a known bug in the Google Adsense interface. Its difficult to find the settings for your custom search engine you created using AdSense for Search, because its ad unit is hidden!
To view your adsense for search unit and edit it, Go to Manage Ads section in your Adsense Account. Then check the box that says, Show: Inactive Units.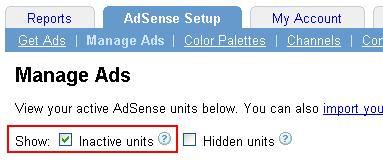 Once you check it, you'll instantly see your adsense for search unit. You can now edit it easily. I Hope adsense will fix this bug soon.