Whenever Google bots access a web page, they take a snapshot of the page and save it on their server. You can access this snap shot any time using Google cache.
If you can't access a web page for some reason, you may try accessing its cache on Google if its not changed very frequently.
Earlier, the cache link for each web page was displayed just below it in Google search results. But if you look for it now, its missing. It doesn't mean that you can't access the Google cache anymore. Actually, the cache link is moved in instant previews.
To open the cached version of any web page in Google search results, just hover over it to open the instant preview and you'll see the Google cache link just there.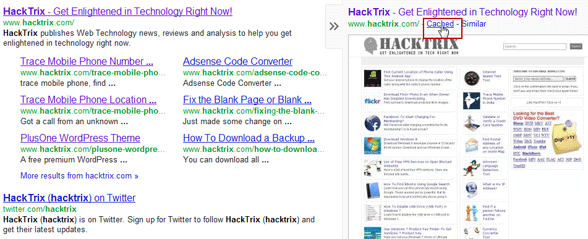 Since Google is making many changes in its interface, its possible that the Google cache link will be moved again. But don't rely upon the cache link any more, when you can use the cache operator anytime.
To open the cached version of any webpage, go to Google.com and use this query,
cache:www.hacktrix.com
Now you can open the Google's cached version of any web page any time!