Windows 7 is undoubtedly the best operating system from Microsoft ever. With many security and usability enhancements, it has motivated other developers to do something new. One of the great new feature that came with Windows 7 is the taskbar showing the thumbs of open applications. This improves productivity as its now possible to quickly access a specific window from an app who has multiple windows open.
On Mac OS X, similar functionality is available with Expose´. But its not as good a the thumbnails features of Windows 7 taskbar. Thus most people don't use it.
But now you can get an even better taskbar functionality in Mac OS X with a freeware called HyperDock. It adds thumbnails like Windows 7 to the Mac OS X Dock.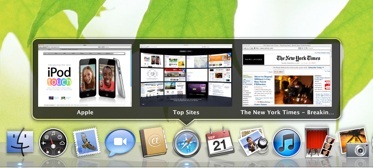 That's not all. It comes with many more features. You can view iCal events from the thumbnails. You can even control iTunes from these thumbs.
Download HyperDock (beta). Its for Mac OS X 10.6 or higher.