Google Drive or Gdrive is finally available now. Just like Dropbox, Google Drive lets you store your documents, images, videos or any other kind of file on the cloud. You can also share the files and folders stored on your Google Drive with anyone easily.
You can install Google Drive or Gdrive on your computer, be it Mac or PC. You can also access Google drive from your mobile device using the Google Drive app for Android or iPhone (still under construction). Thus, Google Drive syncs and lets you access all your stuff regardless of your hardware platform.
Google Drive integrates fully with other Google serviced like Google Docs, Gmail and Google+. You can share any document from your Google Drive with others and edit it in real time with anyone. You can send a link to any of your file in Google Drive to anyone in your Gmail contacts. You can also share any image from your Google Drive account directly on your Google+ profile.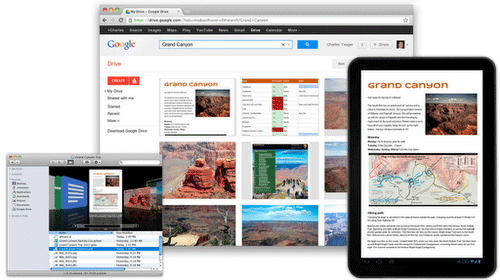 A unique feature of Google Drive that is not available in any other cloud storage and sync service is advanced search. Google Drive lets you search 'inside' files in your Google drive using Optical Character Recognition (OCR). The best thing about this is that it can even search inside scanned documents. It also uses image recognition technology to find any image in your Google Drive easily.
You get 5GB free storage with Google Drive account. You can upgrade to pro account if you need more storage.
You can get Google Drive right now from https://drive.google.com/start. If you see the message Your Google Drive is not ready yet, then it means that you need to wait for a few days to get it.

Click on 'Notify me' link to get a notification email once your Google Drive is ready. Check out the official video preview of Google Drive or GDrive below: