Most of computer viruses out there has built in routines to disable registry editing. This is because they attach themselves to the windows startup and don't want you to mess up with that.
Sometimes system administrators also disable registry editing because many restrictions on the computer are applied through the registry only, and they don't want you to bypass them by simply editing a key or two in the registry.
So what to do when you get this error,
"Registry editing has been disabled by your administrator"
Go to Start>Run, type the following (ok, just copy paste it :) ) and press Enter,
REG add HKCU\Software\Microsoft\Windows\CurrentVersion\Policies\System /v DisableRegistryTools /t REG_DWORD /d 0 /f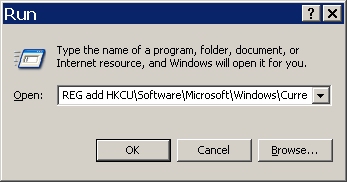 What if run is not there in start menu ? Well, simply press windows key + R and the run dialog box will appear.