If you use Excel for your daily work, you must have noticed that it usually considers acronyms as misspelled words. So it puts a red underline beneath all the acronyms which can get be irritating at times.
One way to get rid of this annoyance is to add each frequently used acronym to the Excel's dictionary. However this solution is very cumbersome. Also, you can't determine in advance what acronyms you'd be using in future.
A clever solution to this issue is to configure excel to ignore spell checking for all the ALL CAPS words. Since acronyms are written in all caps, they won't be spell checked.
How To Disable Spell Check For Acronyms in Excel?
1. Go to Tools > Options.
2. Click on the spelling tab in the Options dialog box.
3. In spelling options, check the Ignore words in UPPERCASE option.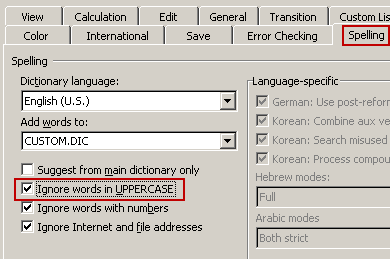 That's it. Now excel will ignore acronyms while spell checking.
Enjoy!