Here's a tutorial to create a page curl or page turn effect on any image with Photoshop.
Note that I use Warp filter in this tutorial so it will work only for Photoshop CS2 or above.
First start Photoshop and open the image on which you want to apply the page curl effect. Now, unlock the background layer. To do this, double click on the lock icon in the layers palette (see the image below).

1. Use the Rectangular Marquee tool and while holding the Shift key, select a square area in the corner of the image where you want to apply the page curl effect.
2. Select the Gradient tool and draw a black and white gradient (default gradient colors) in the selected area from the top right corner to the bottom left corner.
3. Press Ctrl+D to deselect the selected area, and go to Edit > Transform > Warp
The image below that demonstrates the three steps above.
Now, simply drag the bottom left corner to the center to get the page curl or turning page effect and press Enter.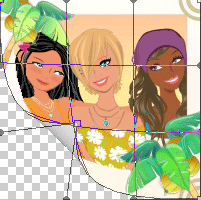 To get more realistic touch, you can add a drop shadow (Layer > Layer Styles > Blending Options). That's it. You'll get a nice page turn or page curl effect on your image.
If you face any issue while replicating this effect, then please use the comment form below to get in touch with me and I'll get back to you with a solution.