You probably already know how to use proxies to access blocked websites.
Its a great time saver to configure Google Chrome to always use a specified proxy so that you don't have to visit the proxy server's website again and again. Here's the procedure.
1. Get the IP address of the proxy server that you want to use. If you just have the site name (or host name or domain name) of the proxy, like www.coolproxy.com, then read this post to learn how to find the IP address from host name.
2. Open Google chrome and go to tools and then click on options.
3. Go to under the hood tab in the Google chrome options that appears. Now click on change proxy settings.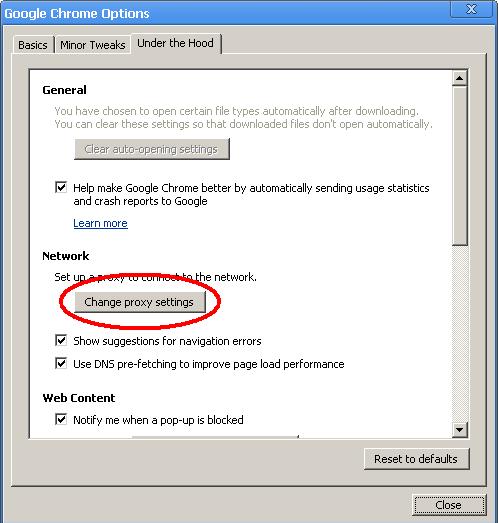 4. Now Internet Options dialog will appear. In this dialog, click on the Lan Settings button.
In the dialog that opens, check use proxy server for your Lan and enter the IP address of the proxy server that you determined above in the step 1 above.
Press OK and restart chrome. That's it. Now Google Chrome will always use the specified proxy server every time it requests any web page.