If you think that someone else is logging into your Facebook account to access your personal data, then there is a way to check if your doubt is true. First, find the place, time and the device used to last access your Facebook account. Then check if its different from your own access details. If they are same then there is no need to worry. However, if they are different, just change your Facebook password.
How To Check Your Facebook Account's Last Access Details
To check the last accessed time, location and the device from which Facebook was accessed, go to Account > Account Settings. On the Account Settings page, click on the Account security tab. You can now see all the details about your Facebook account's last access details,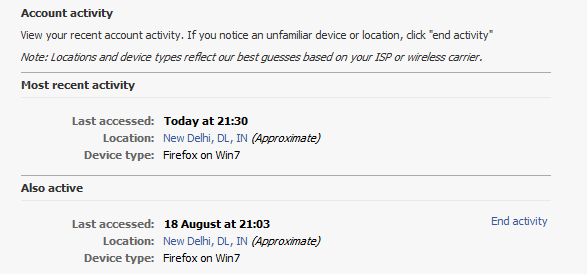 Note that the location displayed here is an approximate guess. It may be different from your exact location but it should be a place very near to your actual location.
If you see any unknown device on this page, that you have never used to access your facebook account, then immediately click on the End Activity button. Then, change your Facebook password immediately.
Keep checking these details from time to time to make sure that your account isn't compromised.