WinRAR is probably the most popular archiving software. Almost all files that we share and download from web are in rar format. Now, if you haven't purchased WinRAR license yet, you'll see this message whenever you open a rar file,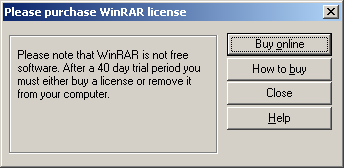 However, you can easily bypass Purchase WinRAR License Alert while extracting rar files.
The usual procedure to extract a rar file is this-
1. You double click on the rar file to open WinRAR.
2. The Purchase WinRAR License Alert pops up, and you close it.
3. You click on the Extract Here button and extract the files to a particular location.
How to bypass Purchase WinRAR License Alert
1. First copy the rar file to the place where you want to extract it.
2. Right click on it and click on Extract Here in the context menu.
The files will be extracted immediately in the current folder without any purchase license alert.
Important Note – If you are not sure that the files in the archive are in a folder, you should-
Either Create a new folder and then extract the rar file in it,
Or, you should use Extract To Folder from the right click context menu instead of Extract Here.
This is because if the files in the rar archive are not in a folder, they'll be extracted directly in the current folder mixing with all the existing files.
Enjoy!