From Google,
For times when you want to browse in stealth mode, for example, to plan surprises like gifts or birthdays, Google Chrome offers the incognito browsing mode. Webpages that you open and files downloaded while you are incognito won't be logged in your browsing and download histories; all new cookies are deleted after you close the incognito window. You can browse normally and in incognito mode at the same time by using separate windows.
How to browse in incognito mode with chrome?
Just press ctrl+shift+N, And a new chrome window opens with incognito icon in the top left corner. Or you can turn open the incognito window by clicking the wrench icon and selecting the New incognito window.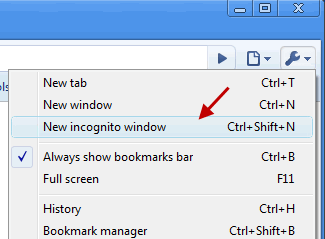 You can also right-click any link and select Open link in incognito window. Rest assured that browsing in incognito window doesn't leave any digital footprints.
Important note – If you are browsing in incognito mode then Chrome will not store any information related to the websites you visit. But the websites that you visit may still log all your information like your IP etc. If you want to hide this as well you need to surf anonymously.