Sometimes you are looking for some particular page in a website but can't track it down. So, you try to use the search feature of the site but still can't find the page. What to do now?
Well, you can use Google to search within a specific website. There are three ways to restrict your search results to a specific website –
1. Type the website's URL in google search box, and press enter, to find out if google provides search box for this site,
If it does, then simply type your query in that search box to search within the website.
2. Google doesn't provides search box for all the websites. In fact, the search box appears only for, a few, very high volume websites. So, to force Google to search within a particular website, click on Advanced Search on Google home page,
Type your query in the all these words text box.
Now scroll down a bit and type the name (URL) of the website in Search within a site or domain box.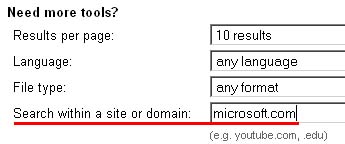 Click on the Advanced Search button to get the results only from your chosen website.
3. Another, and the best way to get the results from a particular website is to use site operator within the search query. Type your query as usual, then append the query with the site:YourSiteName.com to get all the results from this particular website only.
Make sure that there is no space between site: and the website name.