Rapidshare is probably the most popular file sharing website. All the files from rapidshare can be downloaded in two ways. If you are a premium user, you can download files without any restrictions. Premium users can download multiple files simultaneously, resume downloads, and can download at much higher speeds.
Free users, on the other hand, have to wait for a few seconds, usually 30 seconds, before their download starts. They can't resume the download if it stops due to some reason. Also, free users can download only one file at a time.
There are many tricks floating around on the web about bypassing the restrictions for free users, but most of them are fixed by rapidshare within a couple of hours, so its useless to discuss them here.
The best way to use rapidshare efficiently as a free user is to think the other way around. Work inside the limitations imposed by the rapidshare but manage them in such a way that you don't miss any of the premium user's capabilities. This is where the Rapidshare download managers comes into the picture. These software, while working within the limitations of the free users, provide all the luxuries of the premium users by automatically managing multiple downloads.
Top Three Rapidshare Download Managers
1. Rapidshare Auto Downloader
You can add multiple files to this tool and it will automatically download them one by one. It can shutdown your PC automatically after downloading all the queued files. It also checks for the new and updated versions automatically.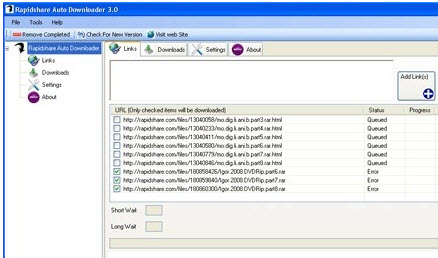 Download Rapidshare Auto Downloader from this page.
2. Rapidshare Download Accelerator
Similar to Rapidshare Auto Downloader, this tool also allows you to prepare a list of download links, then it automatically downloads all those files from rapidshare in the specified order.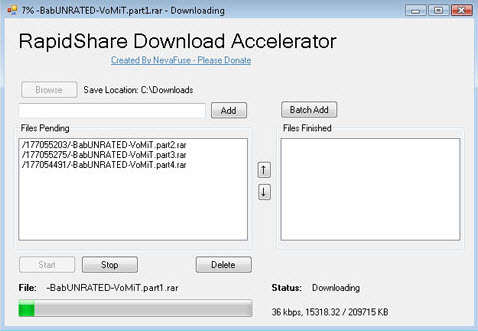 You can change the order and priority in which the files are downloaded using the up and down arrrow buttons on the tools's interface. You can download unlimited files from rapidshare from rapidshare using this tool without any hassle.
Download Rapidshare Download Accelerator from this page.
3. Rapidshare Plus 4.0
This is probably the best auto downloader for rapidshare. Along with all the features of the Rapidshare Auto Downloader and Rapidshare Download Accelerator, this tool provides many more facilities.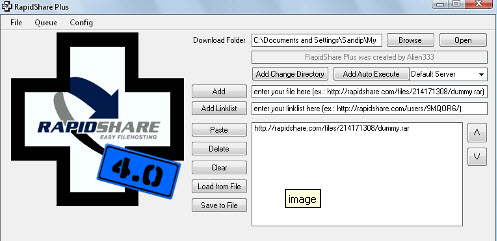 It automatically hides in the system tray and provides ballon notifications for each event, like completion of a download etc. It also supports proxies while downloading files from rapidshare. One of its best feature is download progress indicator.
You can download the latest version of Rapidshare Plus 4.0 from this link.
If you come across any other rapidshare download manager that is as good as the three listed above, then please let me know using the comments.
Enjoy!